Arts:Blog
Theatre/Comedy Review: Hero Worship (****)

Lorna Irvine reviews production 'delivered with chutzpah and clear-eyed pathos'.
Fade in: In tonight's thrilling episode, we find our intrepid young hero…where else, but up on the roof looking down at a city that needs saving, straddling that intersection where post-adolescent ennui meets adult epiphany.
Writer/performer Kenny Boyle's pacy, giddy one-man show is monologue, cheeky stand-up and self-help seminar all at once, delivered with chutzpah and clear-eyed pathos.
Bored of the crushing banality of his life, a young supermarket worker (Anachronism) seeks life in 3D Technicolor, finding a soul mate in a puppy, wide-eyed and lost as he is, and ultimately happiness in the fire of a young woman's eyes.
Happily, none of these facets are as trite as they appear on paper, for what the immensely likeable Boyle, one half of Sonic Boom Theatre Company, crafts is a comedy aware of its own tendency to navel-gaze, reining things in with winning silliness like macho posturing when sentimentality threatens to overwhelm the narrative.
Hulk SMASH…fourth wall!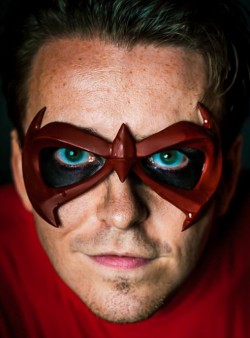 There's a breathless, beautifully written lyricism here: a vivid graphic novel- like attention to detail and a nod to the tropes beloved of sci-fi fans which never once alienate the comic book virgins in the audience…loss, loneliness, alienation and human fallibility are, after all, traits everyone identifies with.
Only by embracing our shadow selves and hugging our inner geek, he suggests, can we become truly heroic. My Spidey senses tell me Kenny Boyle is a talent with a future, brighter than a well-aimed fireball. And not an inch of Spandex was used in the making of this show.
POW!
Part of the Glasgow International Comedy Festival, and touring until 21st March.
www.glasgowcomedyfestival.com
www.sonicboomtheatre.com